Nakagusukuwan Port

Fun for couples
Popular Scenic Spots and Experience Tour
Let's enjoy the Unique Experience of Okinawa around the West Coast
Area: Central Okinawa Main Island Tour Type: For couples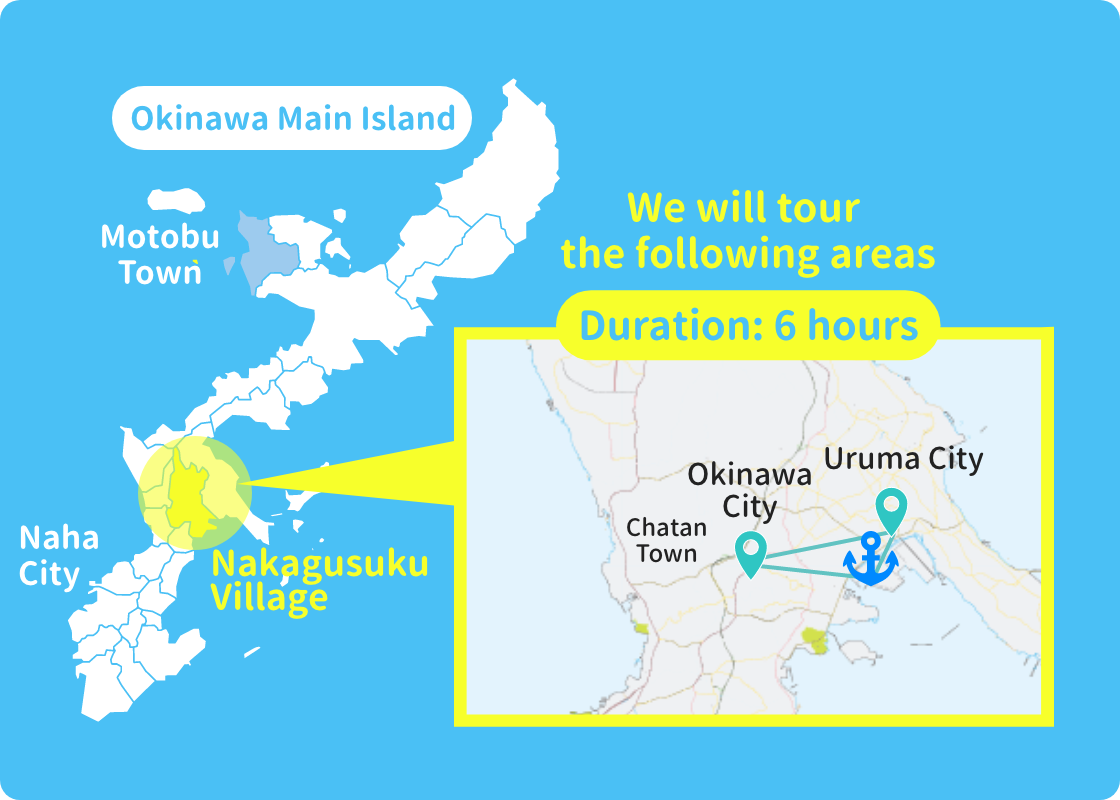 Suggested Itineraries MAP
10:00

Depart from Nakagusukuwan Port

Let us enjoy the unique experience of Okinawa around the central part of the island. Spend a memorable time in Okinawa at a theme park where you can experience Okinawan culture including traditional crafts and performing arts. *When traveling by taxi, rental car, or bus, please allow plenty of time, as the time required may vary depending on traffic conditions.

10:40

Ryukyu Mura Theme Park(about 1.5 hours)

12:45

Araha Beach

About 40 minutes by taxi

10:40

Ryukyu Mura Theme Park(about 1.5 hours)

An Experiential Theme Park that offers Cultural and Traditional experience of Okinawa and the Ryukyu Islands under the Concept of "the Old Okinawa We Want to Pass On."

This is a theme park that recreates the good old days of Okinawa by relocating old buildings from various parts of Okinawa, including a 200-year-old house. You can fully enjoy the traditional culture of Okinawa through hands-on classes of crafts such as indigo dyeing, pottery, weaving, and Bingata dyeing, as well as attractions of Okinawan performing arts such as Eisa, Ryukyuan dance, and shishimai lion dance. At the sugar refinery, an old-fashioned sugar refining scene is recreated with a water buffalo pulling a sugar cart to squeeze sugar cane.

About 35 minutes by taxi

12:45

Araha Beach

A Beach crowded with Locals and a Full-size Galleon

Araha Beach is located in Araha Park in Chatan Town. The 600-meter-long white sand beach is crowded with local families and groups enjoying the beach in their own ways. A full-sized galleon is placed front of the beach, serving as a playground for children. There is also a promenade along the beach and a green turfed plaza.

About 30 minutes by taxi

14:15

Arrive at Nakagusukuwan Port

Central part of Okinawa is the perfect place to experience Okinawan traditional performing arts and traditional crafts. Come visit the Ryukyu Mura Theme Park and explore the unique Okinawan culture!
Nakagusukuwan Port Suggested Itineraries