Suggested Itineraries

Fun for active
Special Tour for Fully Enjoying Miyako Island 1
Special Tour for Fully Enjoying Miyako Island and its Surrounding Islands
Area: Miyako Islands (Miyako, Irabu, Ikema, Kurima and Shimoji) Tour Type: Activities tour
#active
#Spectacular spots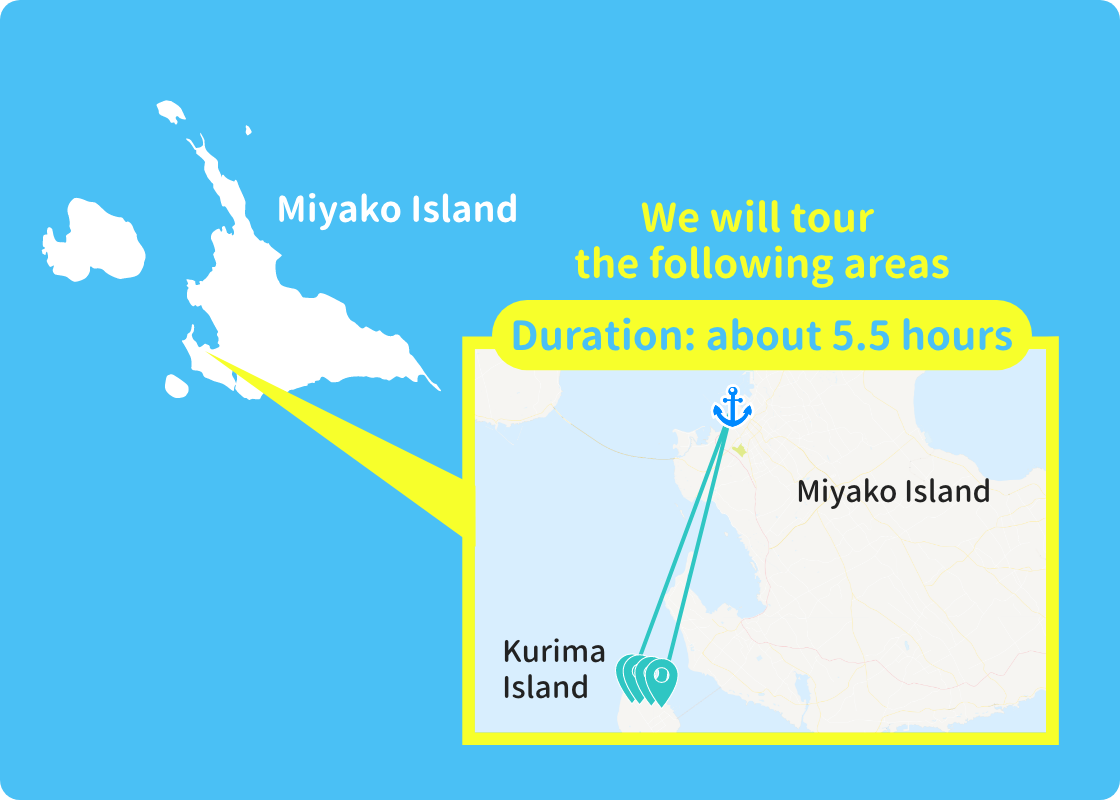 Suggested Itineraries MAP
10:00

Depart from Hirara Port

Miyako Island is located about 300 km southwest of Okinawa Main Island. You can see the beautiful sea also known as "Miyako Blue" when travelling along its coast. Enjoy many marine leisure activities such as snorkeling and diving at more than 15 beaches scattered around the island.
An activity-rich tour to fully enjoy Miyako Island and its surrounding islands, where you can enjoy beautiful beaches and the island's scenic spots. *When traveling by taxi, rental car, or bus, please allow plenty of time, as the time required may vary depending on traffic conditions.

10:20

Higa Road Park(about 1 hour)

11:40

Cape Higashi-Hennazaki(about 1 hour)

13:05

Imugya Marine Garden(about 1 hour)

About 20 minutes by taxi

10:20

Higa Road Park(about 1 hour)

An Outstanding View Point of the Beautiful Coral Reef and the Sea of Miyako Island

Higa Road Park is located at the highest elevation of the cliff coastline that continues to the northeast of Miyako Island. A wonderfully developed coral reef can be seen beyond the beaches where the dark green cliffs stand.
The waters within reefs emit a clear emerald green glow, with the Miyako Blue sea endlessly extending beyond the reefs. This place with the best view in the relatively flat Miyako Island is also a must-visit tourist spot.

20 minutes by taxi

11:40

Cape Higashi-Hennazaki(about 1 hour)

A Cape with Beautiful Seasonal Flowers and Sea,Designated as a National Scenic Beauty

Designated as "Japanese Government Designated Place of Scenic Beauty" and "One of the 100 Scenic Spots in Japan's Urban Parks", Cape Higashi-Hennazaki is a beautiful cape of about 2km long and 200m wide that extends into the sea located at the easternmost tip of Miyako Island.
Dividing the waters with the Pacific Ocean on the right and the East China Sea on the left, the extremely powerful and rough waves crashing against the cliffs display a dynamic scenery. Around the well-maintained promenade, a plant community of the rare species of Hawaiian rose spreads out like a green carpet, in which Easter lilies and evening primrose blossom in full bloom seasonally.

25 minutes by taxi

13:05

Imugya Marine Garden(about 1 hour)

A Paradise for Tropical Fish scattered with Coral Reefs

A seaside park where inlets and beaches remain in their natural form. Waves are calm within the inlet, which is home to many beautiful coral reefs and tropical fish, making it a great place for snorkeling. The walking path leads up to an observation deck, where you can relax and enjoy the wonderful scenery.

25 minutes by taxi

14:30

Arrive at Hirara Port

Come and enjoy our "Miyako Blue" to the fullest with scenic spots unique to Miyako Island!
Hirara Port Suggested Itineraries