Naha Port

Fun for couples
Enjoy the Food, Scenery, and Shopping of Okinawa around Naha Port!
The Amazing View from the "Tomigusuku Road" is a Must-see!
Area: Southern Okinawa Main Island (out of Naha City) 
Tour Type: For couples
#couples
#Activity
#Shopping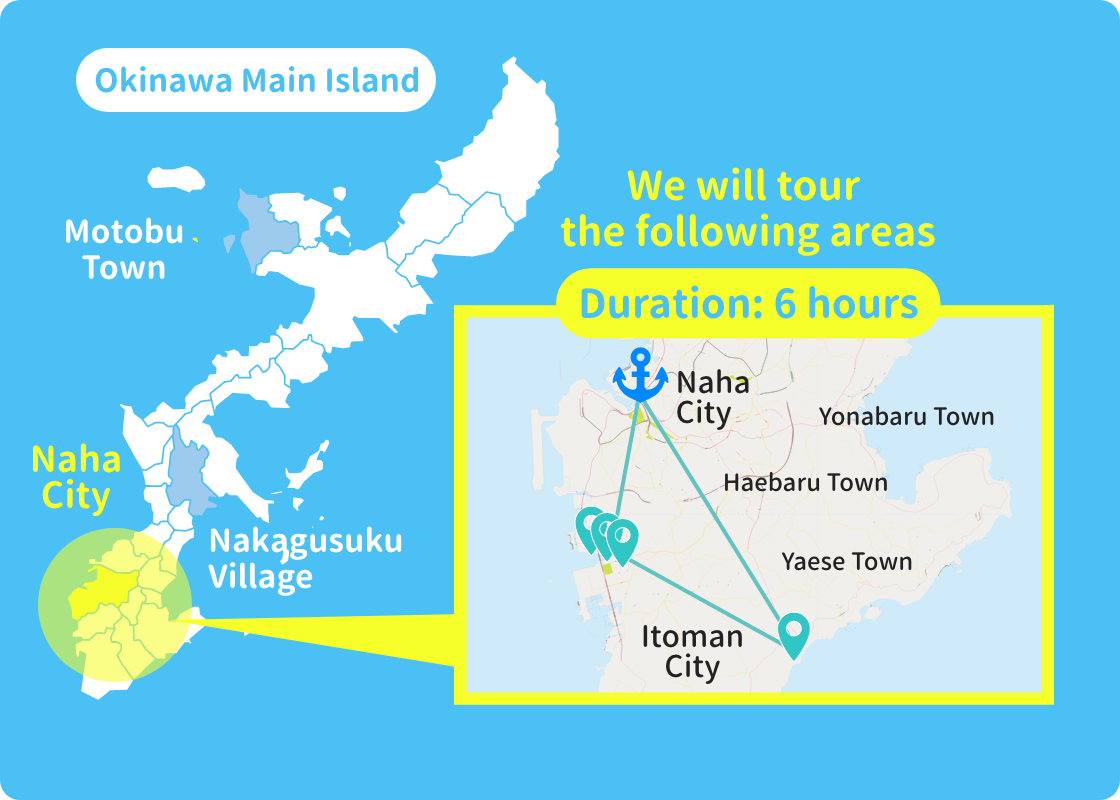 Suggested Itineraries MAP
10:00

Depart from Naha Port

Many of the spots that are easily reachable from Naha Port are convenient and packed with Okinawa's charm. The Itoman and Tomigusuku areas to the south of Naha Port are particularly recommended for their beautiful views from the roads that straddle the sea!*When traveling by taxi, rental car, or bus, please allow plenty of time, as the time required may vary depending on traffic conditions.

10:20

Okinawa Outlet Mall Ashibina(about 2hours)

12:35

Senaga-jima Island Umikaji Terrace(about 1.5 hours)

About 20 minutes by taxi

10:20

Okinawa Outlet Mall Ashibina (about 2hours)

Okinawa's First Super-large Outlet Mall where you can enjoy a Full-scale Resort Shopping

This is Okinawa's first outlet mall, with over 100 luxury brands from around the world gathered in one place. The first floor is lined with directly managed stores and stores operated by authorized distributors, selling luxury branded stock and discontinued products at 30% to 80% of the list price.
A mini-train runs through Ashibina every Saturday, Sunday and on holidays."

About 15 minutes by taxi

12:35

Senaga-jima Island Umikaji Terrace(about 1.5 hours)

A Resort Town visited by 3 Million People Every Year

It is a new sightseeing and shopping spot in Okinawa, where gourmet and sweet shops focusing on Okinawa's unique fruits & vegetables and locally produced menus, and Made in OKINAWA jewelry and craft stores are combined with a great location.

About 25 minutes by taxi *Traffic jams may occur in the evening

Make your trip even more memorable by visiting the Itoman and Tomigusuku areas, which are full of convenient places packed with Okinawan charms!
Naha Port Suggested Itineraries