Naha Port

Family Fun
Tasty Food and Shopping in Naha
Naha, a City with a Wide Variety of Stores, from Local Markets to Brand-name Stores
Area: Okinawa Main Island (Naha City)
Tour Type:Age-friendly
#senior
#Activity
#Shopping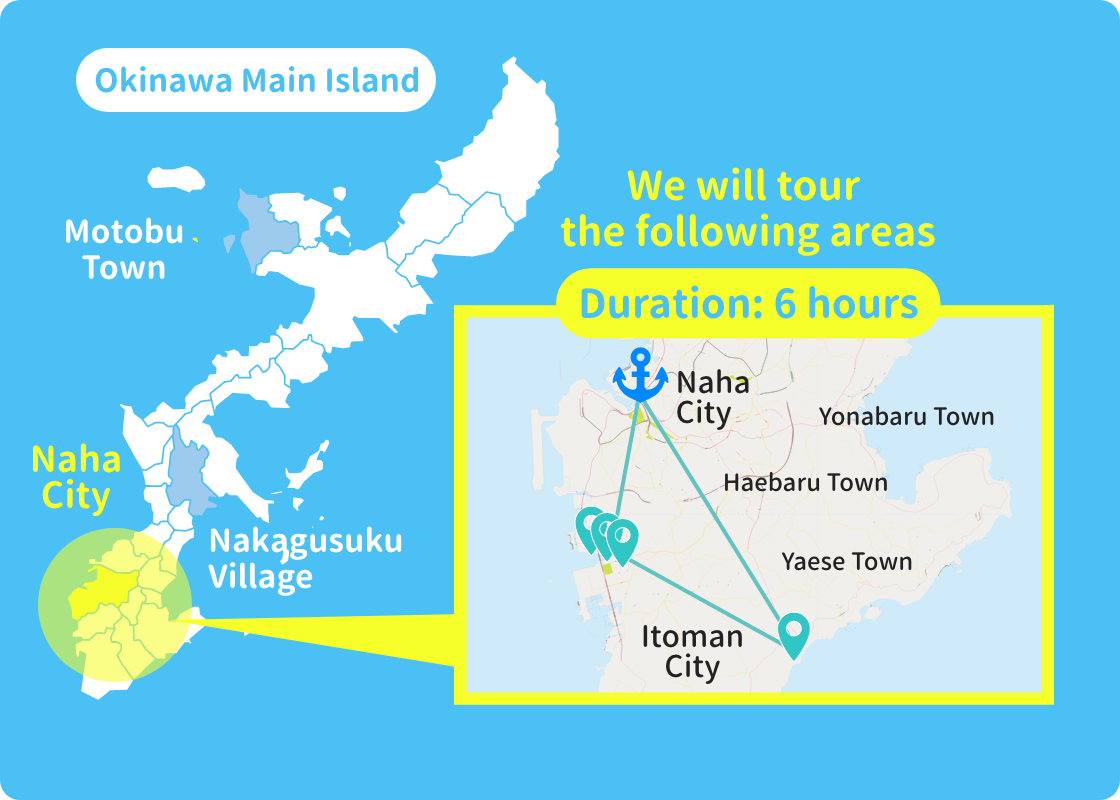 Suggested Itineraries MAP
10:00

Depart from Naha Port

Naha City is the largest city in Okinawa. This is an area where you can enjoy shopping with a variety of stores ranging from local foods, fashion, sundries to luxury brand items. There are many restaurants, from Okinawan-style restaurants to stylish cafes and international cuisine restaurants, where you can savor the atmosphere of the city as well as the delicious food.*When traveling by taxi, rental car, or bus, please allow plenty of time, as the time required may vary depending on traffic conditions.

10:10

Stroll along Ukishima Street(about 40 minutes)

11:00

Naha City First Makishi Public Markett(about 1 hour)

12:20

Sakaemachi Ichiba Market(about 1 hour)

13:40

T Galleria Okinawa by DFS(about 1 hour)

About 10 minutes by taxi

About 25 minutes by walk

10:10

Stroll along Ukishima Street (about 40 minutes)

Stroll Along the Streets lined with Galleries and Stores

Ukishima Street connects the tourist-crowded Kokusai-dori Street to the Ichiba Chuo Street, where the First Makishi Public Market is located at, and extends toward Tsuboya area. It was named after "Ukishima Hotel," a large hotel that used to be located along the street, and many fashionable young people gather here. The street is a unique mix of old and new, where specialty stores that have been around for a long time such as bean shops, confectionery stores, and tatami mat stores remain along with select stores selling Okinawan goods and T-shirts, secondhand clothing stores, boutiques, beauty salons, cafes, and other new and fashionable stores.

About 10 minutes by walk

11:00

Naha City First Makishi Public Market(about 1 hour)

Exceptional Experience of Having the Food You Bought Cooked For You!

Colorful tropical fish, pork, which is an essential ingredient for Okinawan cuisine, vegetables unique to Okinawa, and homemade sidedishes made from island ingredients are dynamically laid out in the market, which is familiar as the kitchen of Naha citizens, and you can enjoy shopping while chatting casually with the shopkeepers. The market is a place where you can experience the power of Okinawa, not only in the ingredients, but also in the lively atmosphere and through the people who work there. There are also many stores around the market that are unique to Okinawa, so why not take a look? Currently, the public market is operating in a temporary location from March to April 2023 due to relocation.

About 20 minutes by walk

12:20

Sakaemachi Ichiba Market(about 1 hour)

Enjoy the Simple, Modest and Deep Atmosphere of Okinawa

Dotted with numerous stores such as butcher shops, fresh fish shops, restaurants, and general stores, the Sakaemachi Ichiba Market has a retro atmosphere that seems to go back to the Showa era after the end of the war that attracts visitors. The time here feels to flow comfortably perhaps from being a place where the elderly can relax and shop. Festivals are held regularly, and a rap group called "Obah (Grandma) Rappers," formed by women who run stores in the market, enlivens the market. At night, the market is lit up with the lights of taverns and bars, giving it a different appeal from the daytime.

13:40

T Galleria Okinawa by DFS(about 1 hour))

The Only Street-level Duty-free Store in Japan

DFS Galleria Okinawa, Japan's only street-level duty-free store, offers a huge floor full of luxury brand boutiques and the latest cosmetics, providing a luxurious shopping experience. The Food Colosseum, which offers about 200 different types of food from all over the world to Okinawan cuisine, is where you can enjoy a meal in a wide open space. Furthermore, reception counters of various car rental companies are found here and it is directly connected to Omoromachi Station of the Okinawa Urban Monorail, making it a convenient base for your trip.

About 20 minutes by taxi

Only a cruise trip allows you to fully enjoy shopping without worrying about your luggage! It's also a great way to enjoy the atmosphere of the city while strolling around.
Naha Port Suggested Itineraries