Suggested Itineraries

Family Fun
Itineraries For Family from Nakagusukuwan Port
Many mysterious animals from the Ryukyu Islands
Let's nurture love and kindness for living things
#Parent-child three-generation
#Animal petting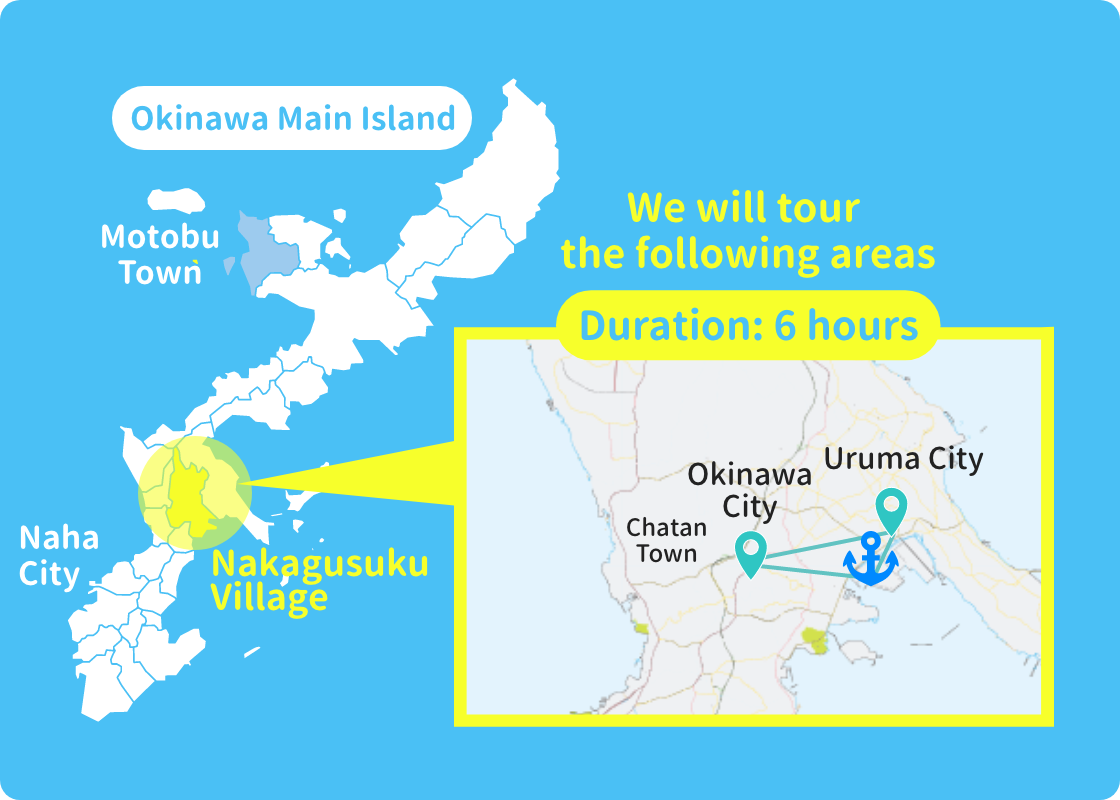 Suggested Itineraries MAP
9:10

Depart from Nakagusukuwan Port

This itinerary introduces "Okinawa Zoo & Museum" where you can learn while playing.
If you get hungry after playing a lot, please visit "Urumarche" where the local food is the attraction.

9:30

Okinawa Zoo & Museum(about 3-4 hours)

13:00

Urumarche(1.5 hours)

About 20 minutes by taxi

9:30

Okinawa Zoo & Museum(about 3-4 hours)

Okinawa Zoo & Museum is one of the largest theme parks in Okinawa, with a zoo as its centerpiece. A large number of animals are kept and exhibited, from the standard popular ones to the rare ones native to Okinawa, and you can see and touch them very closely. There are also many other facilities such as museums to stimulate the intellectual curiosity of children.

Zoo Area

About 200 species of animals welcome you, including the popular white lions, elephants and giraffes. You can feed the rabbits and guinea pigs at the petting zoo area. Children's interest in nature can be cultivated as they can touch living things.

Ark Okimaru

See and learn about the rare creatures of Okinawa, including birds, reptiles and amphibians. The strange and diverse animals of the Ryukyu Arc, a series of islands, will surprise and impress you.

Wonder Museum

The first and only hands-on Children's Museum in Okinawa. Based on the concept that "understanding and creativity begin with surprise," the museum has five exhibition areas where children can nurture their wisdom and imagination by seeing, touching, and experiencing.

Furusato-en (Old House of Okinawa)

This is a reproduction of a farmhouse from the end of the Meiji to Taisho era. Enjoy the feeling of going back in time 100 years ago.

About 20 minutes by taxi

13:00

Urumarche(1.5 hours)

This is a direct sales center where you can find many vegetables, fruits, fish, meat, and processed products from Uruma City and others. At the facility's cafeteria, you can also enjoy a buffet using local vegetables. Experience the appeal of local food.

About 10 minutes by walk

15:00

Arrive at Nakagusukuwan Port

Did you have a great time playing and learning at Okinawa Zoo & Museum?
Your friends may love the souvenirs you can buy at Urumarche.
Nakagusukuwan Port Suggested Itineraries