Suggested Itineraries

Fun for couples
Itineraries For Couple from Ishigaki Port #2
It's a cliché, but it's just right!
Nurturing time together on "Heart Island"
#Recommended for couples
#Biking on a remote island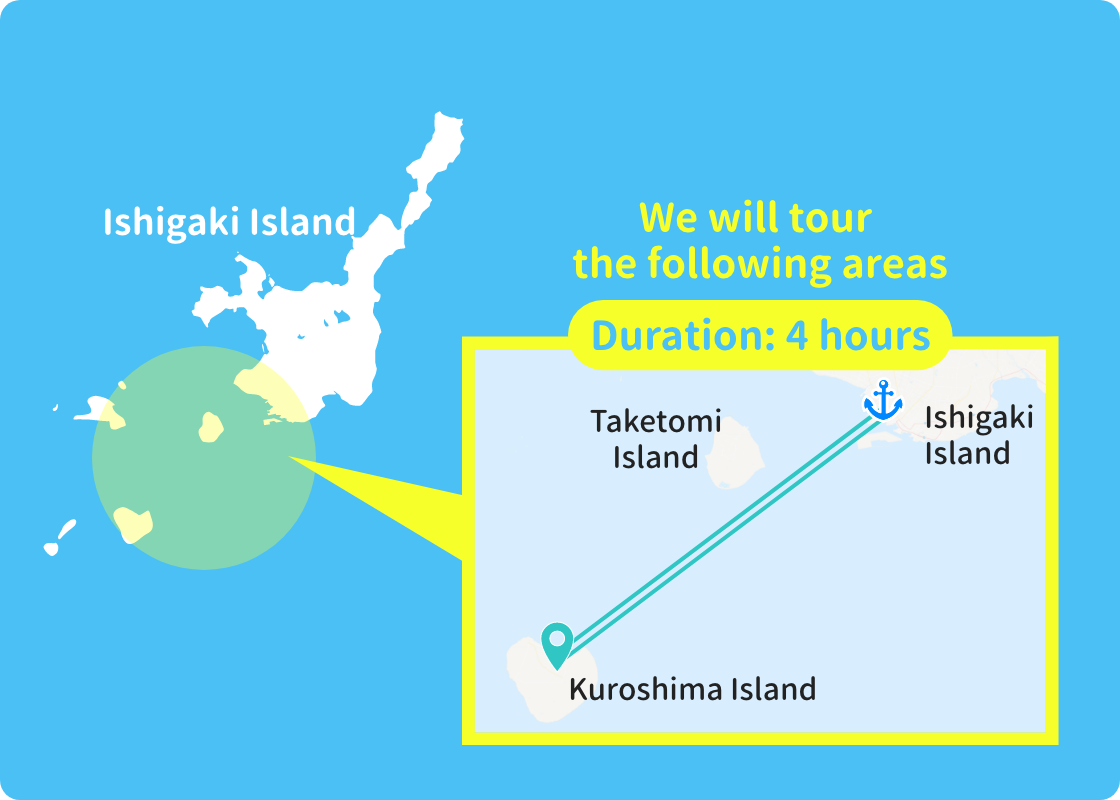 Suggested Itineraries MAP
10:00

Depart from Ishigaki Port

Leaving Ishigaki Island, moving to Kuroshima Island. You can enjoy a little island-hopping. The sea, the people, and the cows welcome you gently.

10:30

Kuroshima Island(about 2 hours and 40 minutes)

About 30 minutes by ferry

10:30

Kuroshima Island(about 2 hours and 40 minutes)

Kuroshima Island is only 30 minutes away from Ishigaki Island. It is called "Heart Island" because of the shape of the island. Why don't you forget the hustle and bustle of the city in a peaceful place with more cows than people, and shorten the distance between you and your partner in an extraordinary environment while cycling?

Cycling course

Iko Pier

Iko Pier is a shallow bridge that stretches to the north of Kuroshima Island. It is registered as a National Tangible Cultural Property and is 354 meters long, longer than Tokyo Tower, and the close proximity to the sea makes you feel like you are walking on the surface of the sea.

Kuroshima Observatory

The vast pasture and ocean seen from this simple 10-meter-high observatory is truly a sight to behold! On a clear day, you can take photos with your partner with Taketomi Island and Iriomote Island in the background.

Kuroshima Research Institute

Sea turtles are said to bring good luck. The beach where these turtles come to lay their eggs is the Nishi-no-hama beach in the northwest part of the island near Kuroshima Port. If you can't see them, don't worry. You can always visit the Kuroshima Research Institute, which breeds sea turtles and other creatures around Kuroshima.

Soba Cafe snorkel specialty Undoya

For lunch, enjoy Yaeyama Soba, which features straight noodles. The mineral-rich natural seaweed called asa (hitoegusa) from Kuroshima Island will soothe your body after a long day of cycling.

About 30 minutes by ferry

14:10

Arrive at Ishigaki Port

How was the magnificent nature and the quiet and peaceful atmosphere of Kuroshima Island, which is different from Ishigaki Island? It's nice to spend a relaxing time with your loved ones in the great nature.

The ferry schedule may vary depending on the season. For details, please check the website of each ferry operator.
Ishigaki Port Suggested Itineraries