Ishigaki Port

Family Fun
Exploring the Island's Nature and its Traditional Lifestyle Tour 2
Exploring the Island's Nature and its Traditional Lifestyle Tour
Area: Yaeyama Islands (Ishigaki Island) Tour Type: For family
#Parent-child three-generation
#nature
#culture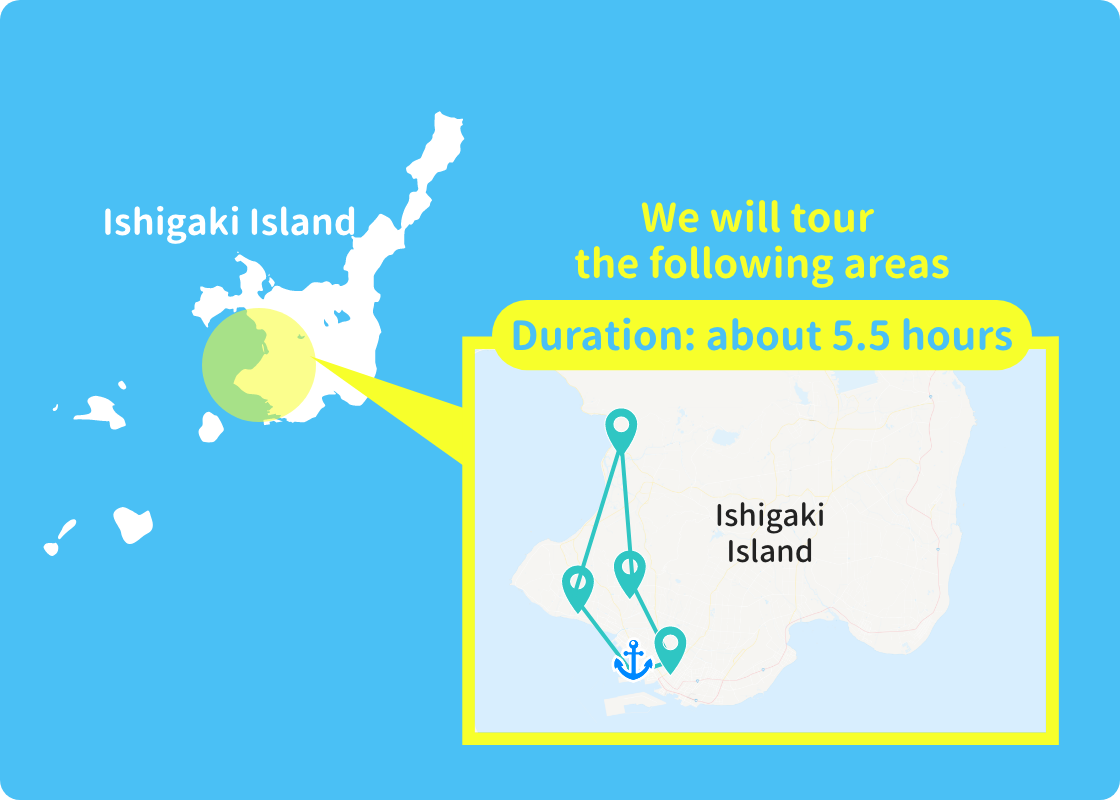 Suggested Itineraries MAP
10:00

Depart from Ishigaki Port

Ishigaki Island is the gateway to the Yaeyama Islands. This island offers spectacular views of the clear blue tropical sea and Mother Nature, fantastic limestone caves, and tourist facilities where you can get a glimpse of the traditional Okinawan lifestyle. We will be leisurely covering all scenic spots that are unique to this island. A somewhat selfish course for enjoying Ishigaki Island. *When traveling by taxi, rental car, or bus, please allow plenty of time, as the time required may vary depending on traffic conditions.

10:25

Ishigaki Yaima Village Theme Park(about 1 hour)

11:35

Banna Park(about 1 hour)

12:45

Ishigaki Limestone Cave(about 1 hour)

About 25 minutes by taxi

10:25

Ishigaki Yaima Village Theme Park(about 1 hour)

"Yukuitabo-ri !" Come and experience the Traditional Lifestyle of Yaeyama

Ishigaki Yaima Village Theme Park is located on a hill overlooking the scenic beauty of "Nagura Bay" in Ishigaki Island.
It is a theme park that recreates the good old days of Yaeyama with the rich nature in its background.
Traditional houses built over 90 years ago moved from the city to the park are designated as Tangible Cultural Properties of Japan.
Sanshin tones echo from traditional red-tiled houses where many hands-on activities such as Ryukyu traditional costumes, star sand art, and Shisa painting awaits you. At the squirrel monkey park, you can feed and interact with about 60 cute squirrel monkeys.

About 10 minutes by taxi

11:35

Banna Park (about 1 hour)

A Nature-rich Park where you can Observe many Plants and Animals, and Enjoy the Subtropical Climate

This nature-rich park takes advantage of the topography of Mount Bannadake, a 230-meter-high mountain near the city center. From the observatory along the Banna Skyline, which runs along the ridgeline of Mount Bannadake, you can enjoy a spectacular view of the cobalt blue sea beyond the tranquil island scenery.
The park, which is about 60 times the size of Tokyo Dome, has a well-developed plaza and a forest walking path where you can observe many plants and animals in the subtropical climate. Local citizens and tourists make use of this park to get in touch with nature through bird watching, forest walks, and nature study.
The park has many facilities and nature where anyone from children to adult can enjoy, such as the "Children's Plaza" with large playground equipment, the "Firefly Road" (from April to June) where fireflies can be observed, and the "Bridge of the Sacred Purple Flower," a suspension bridge planted with the Rhododendron latoucheae flower (blooms around March), which is said to be a rare flower.
The park also has "World Insectarium," "Butterfly Garden," and "Segway Tour," making it a popular all-day tourist spot.

About 10 minutes by taxi

12:45

Ishigaki Limestone Cave(about 1 hour)

A Beautiful Limestone Cave formed from Coral Reefs

The largest limestone cave in Ishigaki Island created by mother nature took 200,000 years to become its present form. There are many things to see such as glittering stalactites, the magical glow of the limestone cave illumination, Suikinkutsu water harp for enjoying the sound of dripping water, and Totoro stalactites.

About 15 minutes by taxi

14:00

Arrive at Ishigaki Port

If you wish to enjoy Ishigaki Island's fantastical limestone caves and get a glimpse of the traditional life-styles of Okinawa, "Exploring the Island's Nature and its Traditional Lifestyle Tour 2" is the perfect tour for you! We hope you will take this home with you as one of your cruise trip memories.
Ishigaki Port Suggested Itineraries